More than just Beautiful Adornment, Malas are Powerful & Symbolic Tools. 
How to Harness the Power of Your Mala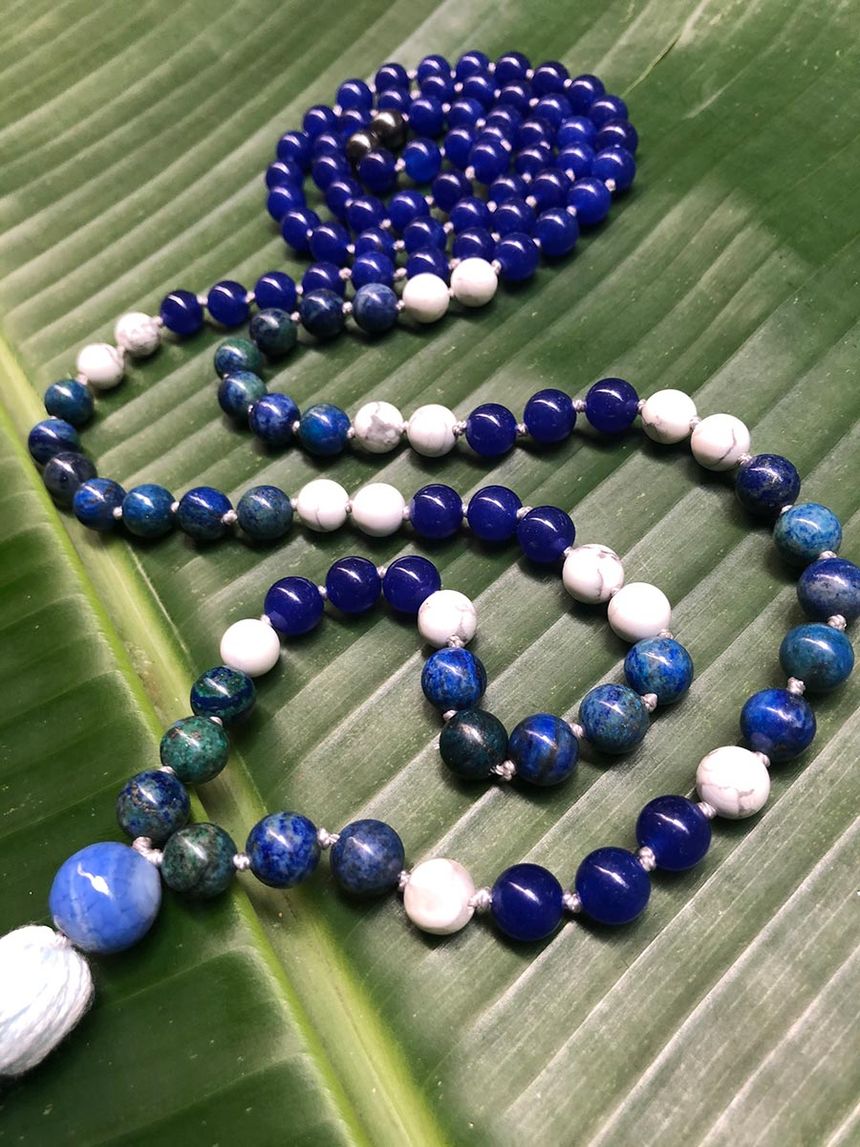 "I believe that there is a subtle magnetism in Nature, which, if we unconsciously yield to it, will direct us aright."
- Mala necklaces usually combine gemstones, wooden beads or seeds, imbued with potent energies and sacred meaning to Ground, Connect, Inspire, Enliven & Uplift You.
- Traditionally used in prayer and meditation mala beads is a string of
108 beads
. 
- Malas have been used in Buddhism and Hinduism for centuries and are often be found in shrines as a
reminder of affirmations
.
WHY 108 BEADS?
There are many theories behind the significance of the number 108, which has long been considered a sacred number in Hinduism. some believe that the number 1 stands for God, the universe or your own highest truth; 0 stands for emptiness and humility in spiritual practice; and 8 stands for infinity and timelessness.
HOW CAN IT AFFECT YOUR ENERGY?
- Accessories lovers will hear me on that, wearing our favourite piece of jewellry can make us feel complete, pretty, or even safe in a way. 
With malas this is common, specially but not restricted to yogis and yoginis.
- High-vibrational healing natural stones can also be used adding special and specific energetic properties that can help you attract and repel certain feelings, thoughts, and emotions.
WHO WEARS MALAS?
You don't have to be religious or have a spiritual practice to have a mala. Some of us are simply finding ways to seek empowerment, connection and spirit in our lives. Your mala can serve as a reminder for the qualities you envision yourself having and the positive changes you wish to manifest in your life.
WHY DO I WEAR A MALA?
Simply because it reminds me and inspires me to:
- Integrate my intention,
- Invite Self Healing, & ultimately
IT IS WHAT YOU MAKE OF IT.... 
"Malas can be seen as a metaphor for life: a small knot between each of the beads represents a challenge between the smoother, more beautiful aspects of life." Seana, Co-founder & Designer at Malas by Design
ABOUT OUR COLLABORATION 
This blog was written in collaboration with my favourite mala desinger, Seana Harvey by Malas by Design. Her company reflects her soul and intentions and are fully in alignment with Gypsy Amazon:
- Bring Peace and Harmony to the World &
- Spread the Love and Healing of Powerful Energetic 
Natural stones through her Designs
- Through her beautiful creations she makes the Daily Desirable, the Mundane magical, &the Sacred Essential.
WE COLLABORATE & YOU WIN
Gypsy Amazon Little Community gets:
20% Off 
Coupon Code: 
gypsylove
If you're looking for a beautiful hand made mala with gem stones and made with love, please click on the button below and browse through Malas by Design online store. 
If you enjoyed this collaboration, article and discount, please click 'Like' or "Share". 
Namaste
Tatiana Okuma
---